Nappy Rash
Nappy rash is a reddening of the skin around a child's nappy area. Their skin will look sore, and your baby may show discomfort when you wipe them.
It can sometimes take a bit of working out what is making your baby's bottom sore. Some common causes are;
The nappy not fitting and rubbing their skin.
Using a soap, bubble bath, wipe or washing powder that doesn't suit your baby.
Recent use of antibiotics.
Skin being in contact with wee or poo for too long, or not being thoroughly wiped.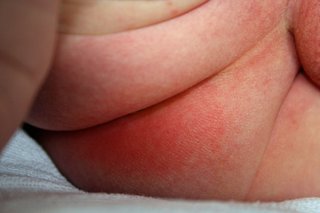 Mostly you will be able to treat nappy rash fairly easily and it will get better quickly.
Check their nappy often. So your child doesn't have wee or poo left on their skin for long.
Clean the nappy area thoroughly using warm water and cotton wool, or alcohol-free (and fragrance-free) wipes.
Use a barrier cream to stop the wee/poo having contact with your child's skin. Make sure the nappy fits well.
Bath them daily in plain, warm water. Pat the nappy area dry.
Lay your baby on a towel, without a nappy. Let air get to their nappy area.
If your baby is miserable with it they may need extra cuddles!
If you cannot find the cause, or it is getting worse your Health Visitor or Pharmacist can advise you (find your local pharmacist *here*). They will suggest a cream you could try.
Sometimes it can be caused by an infection like thrush and may need to be assessed by a doctor for treatment.
Who Can Help?
You can contact the Healthy Child Programme by calling Just One Number on 0300 300 0123 or texting Parentline on 07520631590. Our opening hours are 8am-6pm Monday-Friday (excluding bank holidays) and 9am-1pm on Saturdays.
If you are 11-19 you can text ChatHealth on 07480635060 for confidential advice from one of our team.
You can speak to other Norfolk parents and carers by clicking our online community forum below.