Cold Sores
A cold sore is a blister that appears on the face – usually around the mouth. They are caused by a virus called herpes simplex. Once you have the virus, it stays in your skin for the rest of your life.
You may never know that you carry the virus on your skin, in fact you will not know you have the virus unless a first cold sore blister appears.
The blisters are sore. Some people say that they get them when they are over tired or 'run down'. People tend to get a cold sore 2 to 6 times a year after their first sore. For most people this is not serious. 
We know that small babies are particularly at risk from this virus. It can cause 'neonatal herpes' which is extremely dangerous if not treated very quickly. You may have seen on social media cases where babies have died. A baby is most at risk of getting a herpes infection in the first 4 weeks after birth. You should not kiss a baby if you have a cold sore to reduce the risk of spreading infection. Cold sores and other blisters caused by the herpes virus are at their most contagious when they burst. *Click here* for more information on neonatal herpes.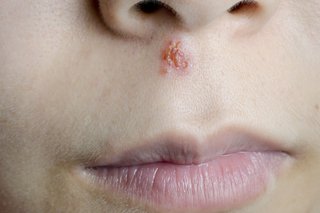 Before the cold sore blister appears you may feel a tingling/burning/itching sensation around your mouth or on your lips where the cold sore is going to appear. If you feel this you can start to treat the cold sore straight away before it appears - speak to your pharmacist for advice. (Find a local Pharmacy here - blue link). The earlier you treat the cold sore the better. 

Cold sores are infectious from when you feel the tingling sensation right through to when the cold sore is fully healed. This may be two weeks or longer. Applying an antiviral cream available from the pharmacist as soon as you recognise the early tingling feeling may help but these do not work after the cold sore blisters appear. 

Cold sores can be triggered by being unwell, having your period or exposure to sunshine. If you have a weakened immune system from illness, chemotherapy or conditions such as Diabetes cold sores can make you very ill and you should see your GP if you think a cold sore is coming. 

The following things may helpful - 

Avoid triggers where possible - Sunshine can be a trigger so use a sunblock lip balm with SPF 15 or above if you are out in the sun
Be aware of the early signs of tingling, burning or itching around the mouth or on the lips and seek advice from the pharmacist as soon as you recognise these and apply an antiviral cream
Wash your hands with soap and water before and after applying any cream and use a dabbing action to apply not rubbing
Drink plenty of fluids to avoid dehydration and eat soft, cool foods
Take regular Paracetamol or Ibuprofen to ease any pain and swelling (always follow the guidance for safe doses). Liquid Paracetamol can be given to children - ask your pharmacy for advice. DO NOT give Aspirin to children under 16 years of age.

If you are pregnant, have a weakened immune system or your baby comes into contact with a cold sore call your GP/NHS 111 for further advice immediately.

If you have a cold sore please follow the advice below - 

Wash your hands thoroughly both before and after applying any cream. Us a dabbing action to apply cream - do not rub it in.

DO NOT kiss anyone while you have a cold sore.
DO NOT touch your cold sore unless you are applying cream. 
DO NOT share anything that comes into contact with the cold sore such as towels, face flannels, creams, cutlery, lipstick or lip balms.
Avoid salty or acidic foods such as crisps or vinegar as these will make the cold sore worse and will be very painful.

Please see your GP or call NHS 111 for advice if - 

Your baby comes into contact with a cold sore.
You are pregnant, have a weakened immune system or a long term condition such as Diabetes.
If you are having chemotherapy.
If the cold sore has not started to heal within 10 days .
If you are worried that it may not be a cold sore.
If the cold sore is very large or painful.
If either yourself or your child have swollen, painful gums or any sores in your mouth. 
Your GP or NHS 111 may refer you or your baby to the hospital for further advice or treatment in these cases.
Who Can Help?
You can contact the Healthy Child Programme by calling Just One Number on 0300 300 0123 or texting Parentline on 07520631590. Our opening hours are 8am-6pm Monday-Friday (excluding bank holidays) and 9am-1pm on Saturdays.
If you are 11-19 you can text ChatHealth on 07480635060 for confidential advice from one of our team.
You can speak to other Norfolk parents and carers by clicking our online community forum below. 
The Lu
llaby Trust - Baby Check App - This app has simple checks that you can do if your baby is ill and helps you think about whether they need to see a doctor or health professional.